Weekly Creating Wellness Insight
Get Fit WITH Your Kids!
Exercise doesn't always have to mean dropping your kids in order to hit the treadmill for a few hours. Kids are the best examples of getting fun exercise, so take their lead and play along. Here are some activities you and your kids can do together to take advantage of the outdoors, burn some calories and spend quality time together.
Nature Hike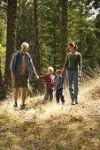 Look up trails online with your kids and pick a route everyone can enjoy. Instead of walking trails, look for real hikes: the higher the elevation and the incline of the trek, the better the cardiovascular benefits, plus muscle toning. While you are working on your killer calves, your kids can collect leaves, take pictures and spot birds.
Family Football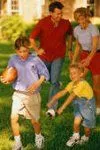 Football can be fun for the whole family and a great way to work up a sweat. To keep it safe (or if you have teenage boys that don't quite know their own strength yet) stick to tag football, or flag football by tucking bandannas into your waist bands. No need for refs, it's a family game. Just set up two goals, split into two teams and start running, throwing, catching and diving. It may rain, but don't let it cancel your game. Put on old clothes and get muddy!
Playground Obstacle Course

Playgrounds are like your own personal outside gym. Take your kids to the park and plan an obstacle course, trying to use every piece of the equipment: run up the slide, cross the monkey bars without touching the ground, do 10 jumping jacks in between each obstacle, etc. Map out the race with your kids and then whip out the stop watch. Whoever finishes in the fastest time gets to pick their favorite dinner. The better the prize, the more times your kids will want a rematch. Just be sure not to run over anyone else there trying to play, or even ask them to join in, since I guarantee all the other kids are going to be jealous because their mom is sitting on the bench reading a magazine.
Cold weather isn't a reason to stay indoors and having to hang with your kids isn't a reason to skip your workouts. Kids are funny: they actually think spending time with you and being active is fun. Get in on the action and keep fit while making new memories and traditions with your children.